WeForm Online
WeForm operates in over 20 jurisdictions and offers a complete online solution tailored to meet all of your company formation needs.
Corporate website
Case study page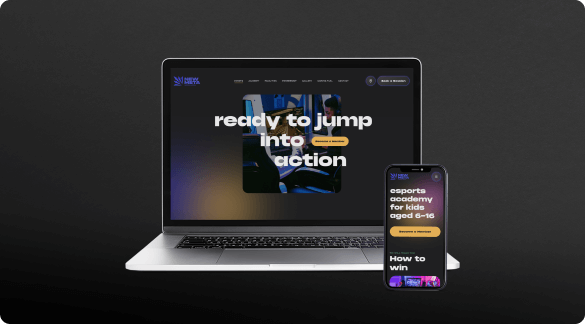 New Meta
We have over 40 high-end gaming stations. Looking for a serious session of gaming or just looking for a place to play some games and relax?
Corporate website
Case study page
Ruslan Ghanem
Practicing neurosurgeon from 2011 to the present at the DU "Romodanov Neurosurgery Institute of the National Academy of Medical Sciences".
Landing page
Case study page
The Importance of Design in Business
Design is a powerful tool for communication, allowing businesses to visually convey their message, values, and offerings to their target audience. Effective design can help businesses stand out in a crowded marketplace and establish a unique and compelling voice.
Design plays a crucial role in creating a positive user experience, from a website's layout and navigation to a product's packaging and usability. A well-designed product or service is more likely to be used, recommended, and loved by customers.
Design can be a key differentiator for businesses, helping them stand out from competitors and establish a unique value proposition. A well-designed product or service can make a strong impression on customers and set a business apart in their mind.
Design can drive innovation by encouraging businesses to think creatively and outside the box. Through design thinking, businesses can identify new opportunities, solve problems, and create unique solutions that meet customer needs in a fresh and exciting way.
Good design can deliver a strong return on investment by increasing brand awareness, improving customer loyalty, and driving sales. Investing in design can pay off in the long run by creating a strong and lasting impact on customers and driving business growth.
Good design is essential for creating a strong and memorable brand identity that resonates with customers, establishes trust, and builds loyalty.
Creating a strong brand is essential to the success of any business. A good brand is more than just a name and a logo – it's a representation of your company's values, personality, and unique identity. Here are some tips on how to create a good brand: Conclusion By following these tips, you can create … Read more
View more
Marketing is a crucial part of any business strategy, and can greatly contribute to the growth and success of your business. Whether you're a small startup or a large corporation, marketing can help you reach your target audience, establish brand identity, and increase sales. In this blog post, we'll explore how marketing can help grow … Read more
View more