WeForm Online
WeForm operates in over 20 jurisdictions and offers a complete online solution tailored to meet all of your company formation needs.
Corporate website
Case study page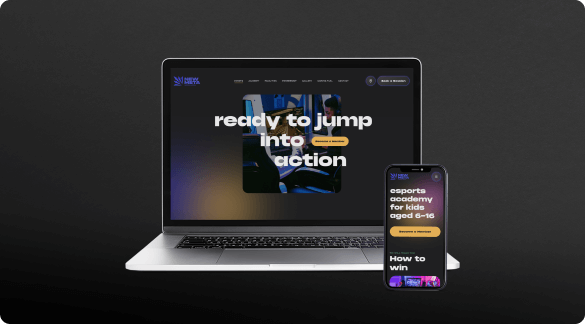 New Meta
We have over 40 high-end gaming stations. Looking for a serious session of gaming or just looking for a place to play some games and relax?
Corporate website
Case study page
Ruslan Ghanem
Practicing neurosurgeon from 2011 to the present at the DU "Romodanov Neurosurgery Institute of the National Academy of Medical Sciences".
Landing page
Case study page
The Importance of Marketing for Businesses
Marketing is essential for creating brand awareness, letting customers know who you are and what you have to offer. Effective marketing can help businesses establish their brand identity, build credibility, and differentiate themselves from competitors.
Targeting the Right Audience
Marketing helps businesses target the right audience, ensuring that their message reaches the people who are most likely to be interested in their products or services. By targeting the right audience, businesses can increase the effectiveness of their marketing efforts and maximize their return on investment.
Marketing is a powerful tool for building relationships with customers, fostering trust and loyalty. By creating a connection with customers through effective marketing, businesses can increase customer retention, encourage repeat business, and generate positive word-of-mouth.
Marketing can help businesses increase sales by attracting new customers, encouraging repeat business, and generating referrals. By creating an effective marketing strategy, businesses can increase their revenue and grow their bottom line.
Marketing is essential for staying competitive in today's crowded marketplace. By investing in marketing, businesses can establish a strong online presence, differentiate themselves from competitors, and attract customers who are looking for products or services like theirs.
Marketing is an ever-evolving field, and businesses that stay on top of the latest trends and best practices can adapt to changes in the market and stay ahead of the competition. By investing in marketing, businesses can stay relevant, innovate, and continue to grow and succeed.
Creating a strong brand is essential to the success of any business. A good brand is more than just a name and a logo – it's a representation of your company's values, personality, and unique identity. Here are some tips on how to create a good brand: Conclusion By following these tips, you can create … Read more
View more
Marketing is a crucial part of any business strategy, and can greatly contribute to the growth and success of your business. Whether you're a small startup or a large corporation, marketing can help you reach your target audience, establish brand identity, and increase sales. In this blog post, we'll explore how marketing can help grow … Read more
View more